2023 AIM Award Recipients Announced
February 15, 2023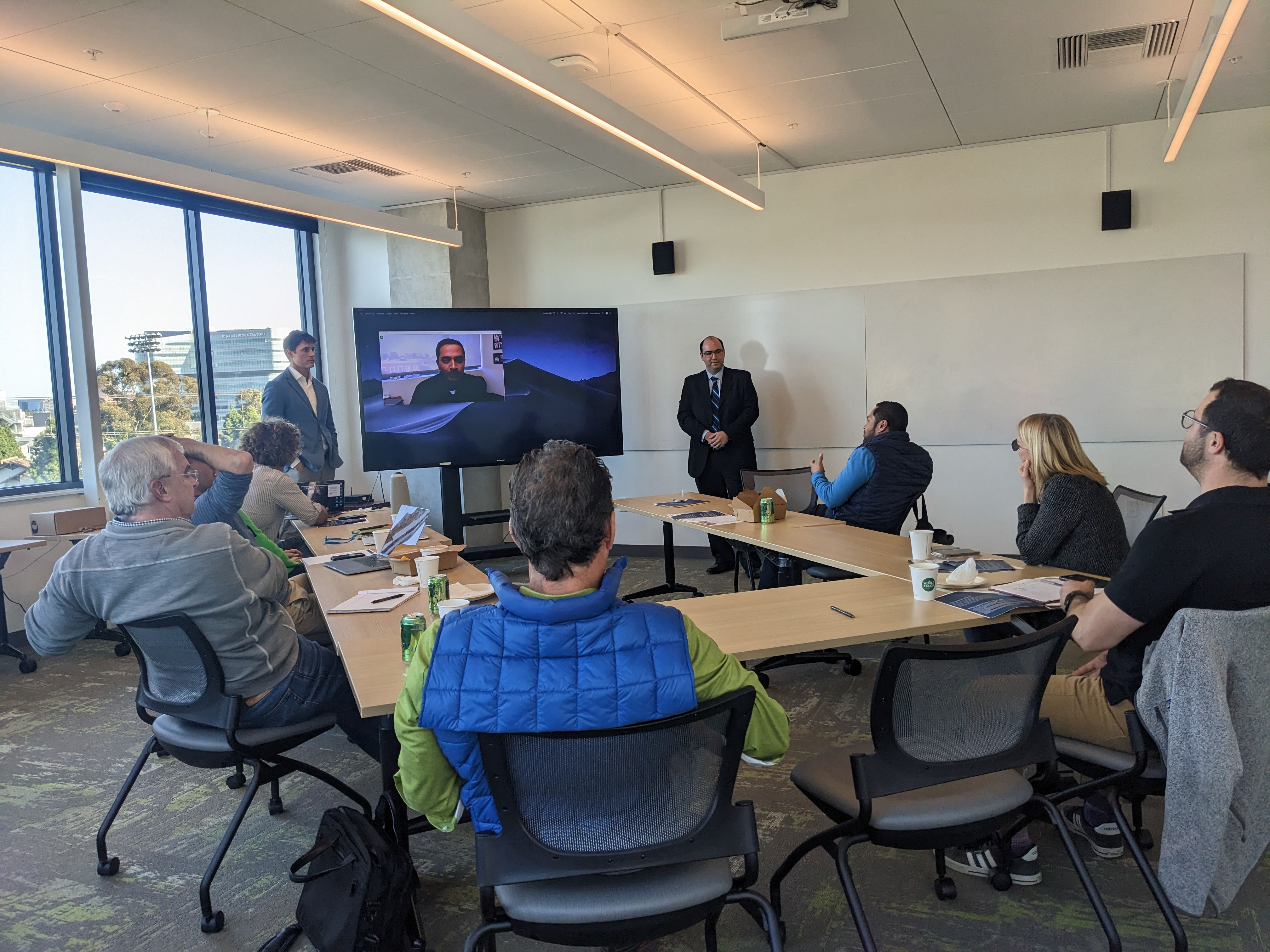 There are a great many things required to bring an innovation into the world– time, energy, patience, determination to name a few. To that end, one must be undeniable in their trajectory of success. And at the core of it all is the ability to successfully show others that it's not only possible but very much needed to solve a real problem. It's a proof of concept that for some startups and project teams is their next big step, something that is hinged upon funding. That's what the Accelerating Innovation to Market (AIM) program is all about and no more evident than with this year's AIM award recipients. 
In January, eager San Diego founders and project leads– ten in total– gathered on the fourth floor of the Design & Innovation Building to pitch their innovation for additional proof of concept funds. Applicants showcased their agile ingenuity and commitment to advance promising technology, as they sought a portion of the $250,000 in AIM grant pool. 
Designed to accelerate the translation of UC San Diego technologies to market and support these homegrown startups, the AIM program offers teams a chance to continue their innovation journey. Awarded projects are impact driven and have the greatest potential of making it to market, where these technologies are realized in the lives of patients, implemented in communities, and serve customers. 
"This program demonstrates the power of bringing together the cutting-edge research expertise from UC San Diego, with the experience of industry and the investment communities, to accelerate the development of solutions that benefit us all," added Associate Vice Chancellor Paul Roben of Innovation and Commercialization. "This is truly innovation at work!"
Scientist and student teams presented their solutions and fielded questions from a panel of seasoned industry experts with diverse backgrounds and key members of the regional entrepreneurial community. These industry panelists represent healthcare, pharmaceutical, engineering, environmental, and finance all dedicated to social impact. With each new presentation, panelists engaged with enterprising founders, who had some of the earliest new technical solutions spinning out of laboratories.
"There is so much innovation coming out of UC San Diego and it's amazing to see the diversity in founders, tech/science, and industry," said David Loeske of First Republic Bank and AIM panelist. "What struck me this year was the amount of multi-disciplinary collaboration of chemistry, physics, engineering, materials, biology, and analytics working together to solve problems. While all the companies are early-stage with very sophisticated science and tech, it's great to see the early kernel of inspiration along with the more fully developed business solutions getting traction in the marketplace with customers. The whole AIM program is very inspiring and humbling to be a part of." 
The Industry Team
David Loseke, First Republic Bank

Stephanie Allen, 

Entrepreneur In Residence, UC San Diego

Ravi Kiron, EMD Serono

Sanjay Mistry, J&J Innovation

Jennifer G Cayer, Pulmocide & Moores Cancer Center

Justin Chapman, Poseidon Innovation 

Tom Novak, Autobahn Labs

Dimitre Simeonov, Autobahn Labs

Nick Ainslie, GTR

Vish Krishnan, UC San Diego & Harvard

Julio De Unamuno IV, LabFellows

Gilan Megeed, DEERFIELD

Raksha Shah, Lipidio Therapeutics
It was an exceptionally challenging year to select winning teams. While each presented high-quality technology worth awarding, there were some that more closely aligned with the spirit of the grant and presented a clearer pathway to market with compelling milestones to match intellectual property development. The winners of the 2023 Accelerating Innovation to Market grant are below. 
Therapeutics and Small Molecules
Title: A Novel Therapy for FOXG1 Syndrome and Related Neurological Conditions
Team: Alysson Muotri & Thiago Turaça
Award: $50,000
Synopsis: This project combines cutting-edge stem cell and molecular biology techniques to validate a novel approach to treating several neurological conditions by targeting an essential gene responsible for brain development and homeostasis. Our specific strategy can be tailored to different conditions and likely low or no side effects.


Title: Immunoregulatory Microparticles for Systemic Disease Modification in Inflammatory Arthritis
Team: Nisarg Shah, Nunzio Bottini, & David McBride
Award: $50,000
Synopsis: Uncontrolled autoimmune inflammatory joint disorders are a leading cause of irreversible functional impairment and can lead to disability in the long-term. Current therapies are effective but, unfortunately, many patients continue to experience moderate to high disease activity. To address the limitations of current therapies, the technology will focus on developing an optimized formulation and conducting preclinical validation studies of an innovative disease modifying agent. If successful, the results from this project will support larger-scale development towards gaining regulatory approval for clinical trials.



Artificial Intelligence and Healthcare Diagnostics
Title: Non-Invasive Periodontal Examination
Team: Jesse Jokerst, Ali Hariri, & Reza Nezhad
Award: $50,000
Synopsis: Periodontal diseases are prevalent worldwide and affect individuals regardless of their age and have become one of the growing public health concerns. Because of the lack of an effective diagnostic method, there is a delay in the diagnosis and treatment for periodontal disease. Our goal is to introduce a device which assists dentists. The long process of charting and visual assessment will be eliminated, and more patients can be evaluated during office hours. The non-invasive nature of our method will lead to better care and more care.



Medical Devices or Diagnostic Tools
Title: LIMBER UniLeg: Rapid, On-Demand, & Scaled Manufacturing of Custom Transtibial Prosthetic Legs for Amputees
Team: Luca De Vivo Nicoloso, Joshua Pelz, & Herb Barrack
Award: $50,000
Synopsis: LIMBER Prosthetics. is a start-up coming out of the University of California, San Diego. Our mission is to provide prosthetic and orthotic devices to the 9 out of 10 people who are left behind. Using our digital workflow and advanced manufacturing, LIMBER gives Physicians the tools to efficiently create comfortable prosthetic limbs. The LIMBER process starts with a scan of the amputee's limbs. Next, the scans are transformed into a personalized prosthesis that we manufacture using 3D printers. 3D printing allows us to reduce the cost of our limbs to less than one-tenth of the cost of comparable devices.



Title: Touch-Based Non-Invasive Sweat Glucose Sensing System
Team: Lu Yin, Jong-Min Moon, & Joseph Wang
Award: $46,000
Synopsis: Our team in the Nanoengineering department of UC San Diego under Professor Joseph Wang's laboratory of Nanobioelectronics has developed a low-cost, reusable, user-friendly touch-based sensor strip that uses natural fingertip perspiration instead of blood for non-invasive glucose sensing. The accuracy of the sensor has been validated via a small-scale pilot trial. With sensor chemistry proof-of-concept, we plan in this project to develop the alpha prototype of the entire non-invasive SGM system, which includes the sensor, hardware, firmware, mechanical parts, and complementary software, towards a small-scale clinical trial under IRB to provide the basis for our IDE filing with the FDA.



About AIM
Accelerating Innovation to Market distills inventor talent and provides mentoring, resources, funding, and access to partners as well as investors to advance ideas from UC San Diego labs through feasibility projects and validation prototypes - ultimately to scale. Our effort is to clarify potential, lower the risk of commercialization, and strengthen the UC San Diego innovation ecosystem as we strive for shared social and economic prosperity. Furthermore, by working together, we can pool the value of our respective networks to assist more teams and startups than ever before.
Equity, Diversity, and Inclusion are key parts of what makes AIM a successful program with enduring impact. AIM intentionally seeks to recruit and engage entrepreneurs and innovators from historically marginalized communities as an integral strategy to address the underrepresentation of diverse founders and the communities that technologies are destined to serve. For more information, please visit Equity, Diversity, and Inclusion in Research Affairs.
Learn more about the AIM program.