Radicle Science Leads Change with Close Ties to UC San Diego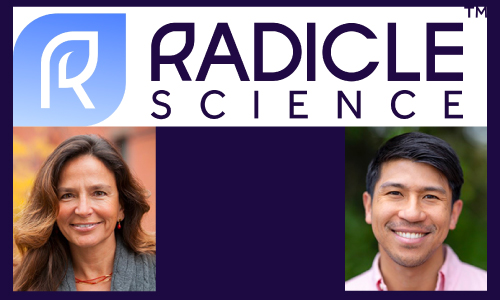 Although about 75% of Americans use natural products such as nutraceuticals and dietary supplements, there is little guidance on which brand, dose, or ingredient would be most effective— if at all. That's where Radicle Science steps in. Co-founded by Pelin Thorogood and Dr. Jeff Chen in late 2020, Radicle Science aims to transform clinical trials for non-pharmaceuticals and ultimately, how we, as consumers, understand their efficacy. 
Having raised $9 million in seed funding, the disruptive approach of Radicle Science along with their promise for the future has gained increasing national attention. This San Diego-based healthtech B-corp has been featured in Forbes, Fast Company, and Newsweek, as well as KPMG Top 10 U.S. "Tech Innovator" in 2022, and more recently in Fast Company's "World Changing Idea" in 2023.
Along the way, Radicle Science has been also deeply integrated within UC San Diego. Let's see how Radicle Science is turning things upside down and why it's such an important part of the UC San Diego innovation ecosystem.
A Need for Change
According to Thorogood, most supplement companies lack clinical support for their products' effectiveness due to a lack of easy and affordable access to clinical trials. The standard research framework— with double-blind, randomized, and placebo-controlled clinical trials— was created to more clearly elucidate the effects of patentable pharmaceuticals, but this hasn't been the case for non-pharmaceuticals.
"Traditional clinical trials are typically very expensive, and they often take many years for unpatentable nutraceuticals, but that's not the only hurdle we have to address," Thorogood stated. "Because of my data background, I also realized that the small scale and homogeneous populations of traditional studies were never going to lead to data generalizability for the population at large. This called for much needed diversity and inclusion to the current model given the over-prevalence of white, urban, male participants in most traditional trials. In short, we needed to make a change." 
Learn more about how clinical trials seek to fix their lack of racial mix.
Frustrated with the slow speeds and high costs of the traditional clinical trial model, Thorogood and Chen set out to change that model. They realized that adoption of artificial intelligence (AI), virtualization, widespread use of smartphones and digital health devices had the power to fundamentally transform the future of clinical trials for health and wellness products and set healthcare on a whole new trajectory.
What Makes Radicle Science So Radical 
Radicle Science provides an easy path for manufacturers of non-pharmaceutical products to clinically evaluate and show support for their effects beyond placebo. Their AI-driven, virtual, direct-to-consumer (D2C) clinical trial approach generates large-scale predictive health data, as well as support of effectiveness at affordable and fast rates, unprecedented in the industry. 
"We're on a mission to democratize access to clinical trials, so we can advance personalized medicine to be accessible and affordable for all," Thorogood explained. 
Leveraging AI to manage its large and growing dataset enables Radicle Science to continually optimize its entire process from participant recruitment and engagement to study design. Virtualization and the D2C model make study participation easy and valuable for diverse groups of volunteers across the nation. In line with their B-corp mission, Radicle Science unblinds their study volunteers and provides them with personalized health reports with the insights on their product usage and outcomes. Additionally, the large scale of the studies and diversity of the samples make the findings relevant for the population at large. Each of these facets is a vital component of the Proof-as-a-Service approach, pioneered by Radicle Science, making it not only different from traditional clinical trials, but better. 
"What's even more revolutionary is our ability to aggregate standardized data to create industry benchmarks and even predict personalized health outcomes leveraging AI models," she elaborated. "Manufacturers and brands will finally have the opportunity to approach product innovation, customer targeting and engagement in a completely different way—and achieve outcomes simply not possible with custom-designed one-off studies."
Gaining Support Along the Way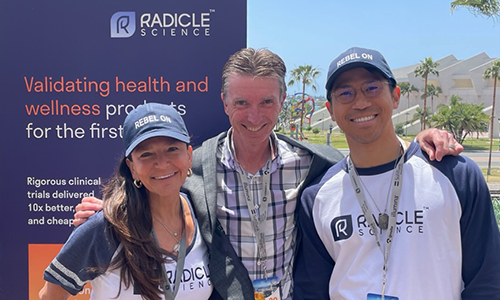 Of course, like every startup, Thorogood and Chen were not alone in their journey creating Radicle Science. The duo had the guidance of many individuals across the US – from researchers to business people – who supported them from idea to pre-seed funding to creating a 30+ person, rapidly growing and revenue generating company in just two years.
"One of the people who's been really critical to our success is Bruce Hansen, our independent board director. He's been great to brainstorm with, thanks to his vast experience as a successful entrepreneur," Thorogood explained. "We also consulted with several people from the UC San Diego ecosystem, including fellow trustees and venture capitalists Leo Spiegel and Drew Senyei.  Also, Associate Vice Chancellor for Innovation and Commercialization Paul Roben has been incredible for opening up the US San Diego innovation and entrepreneurship network to us."
In response to Thorogood's recent recognition as an Inc 200 Female Founder, Paul Roben was recently quoted as saying: 
"Pelin is an inspiration to all those who work with her. Her passion, energy and the generosity with which she gives her time have motivated not just her company or the university, but the entire regional innovation ecosystem to challenge themselves to become more inclusive and impactful in driving social and economic prosperity across our region. The impact of Pelin's contributions go far beyond any single endeavor, making her what I would term a Keystone of our innovation community." (PR Newswire, 2023)
Staying Connected to UC San Diego
In addition to being co-founder and Executive Chairwoman of Radicle Science, Thorogood also serves as a Board of Trustees Member and Treasurer to the UC San Diego Foundation and as Executive Board Member of the Basement. Additionally, she serves as the Chair of the Chancellor's Innovation and Entrepreneurship Council. 
Radicle Science itself also contributes to the experiences of UC San Diego students as one of the companies involved in the Innovation Sprints program at The Basement. In this program, Radicle Science presents real-world issues to a diverse group of student designers, entrepreneurs, and planners, and helps support their research and the development of their ideas. Recently, a team working with Radicle Science presented their work at a poster session at The Basement, exploring different drivers of customer purchase patterns for supplements. 
Thorogood and Radicle Science also impacted UC San Diego by hiring the university's alumni, particularly alumni of The Basement and other innovation groups and startup incubators. The hires, whom Thorogood also refers to as her mentees, come from many disciplines, including data science, cognitive science, marketing, and public health, often starting as interns, and six of them have been hired as full time employees of Radicle Science.
"What I have seen in my mentees is resourcefulness, creativity and a deep curiosity about innovation and entrepreneurship," Thorogood stated. "They don't just work on the tasks they are given, rather they want to understand the big problems we are focused on and be part of the solution. They truly represent the innovation workforce of the future."
In Thorogood's eyes, what makes UC San Diego unique is how it provides a transdisciplinary education for its students. She observes that the students she employs not only dive deep into their majors, but also have opportunities to work across other fields, and understand how things tie together. 
"At the end of the day, it's the whole systems-approach that we need. Most things don't exist in a bubble, everything is interconnected," she elaborated. "UC San Diego students have a sense of this interconnectedness to business and life, so their perspectives are bigger and broader, a rare quality that makes them more impactful despite their age. I haven't seen this anywhere else." 
A Radicle Future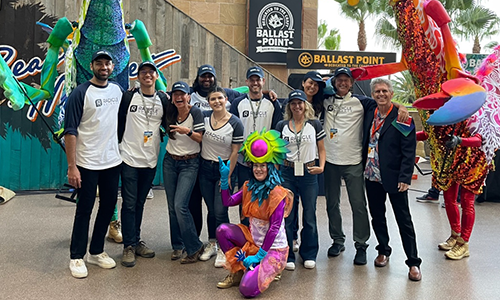 "At its core, Radicle Science is a rebellion against the status quo of research and healthcare and a movement towards personalized, proven health and wellness treatments trusted by consumers, recommended by healthcare providers, and are used widely to deliver well-being for all generations." concludes Thorogood. "That's the abundant future we all deserve and that's exactly what we are committed to creating."  
With a future like that in its sights, it's safe to say Radicle Science will continue to exemplify the innovative spirit of UC San Diego, and the region as a whole… And all on its way to transforming non-pharmaceutical products into well-supported personalized medicines, accessible by all without gatekeepers.