Solving Parking Woes with Proko Park 
Founder and CEO Thomas Li of student startup offers new innovation to alleviate parking frustrations.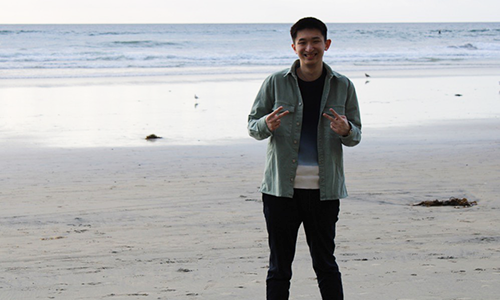 With the sheer volume of people coming in and out of campus each day, finding a good parking spot can be challenging. Frustrated with the time spent looking for parking, UC San Diego student Thomas Li (Class of '23) thought there had to be a better solution. 
"Why isn't there a way for us to know how many spots there are before we even get to the parking garage?'" Li reflected. "I want to make my selection before I go to the garage, not in the garage where I have to circle around searching for a spot." 
The question lingered. Even though Li had no prior interest in founding a startup, he decided to tackle this issue. He discussed the idea at length with future co-founders Andrew Brown and Yuichi Kurino. Believing they were onto something, they conducted interviews with drivers and parking managers as part of their customer discovery to get perspective on the problem and the potential solution. 
Together, they would go on to develop Proko Park, a mobile app for drivers that aims to make parking easier. Now running pilot tests at UC San Diego, Proko Park is slowly evolving its technology to be ready for distribution. Li recently detailed the inner workings and plans for this exciting homegrown innovation. 
What is Proko Park?
Proko Park is a combination of "Proko", the Greek word meaning "pioneer", and "park." The app offers real-time information about parking lots, such as exactly which parking spots are available, which floor it is on, and the hourly rate. It also features a reservation system powered by object-detection sensors, so you can not only find a spot but reserve it all in one go within the app.
Users can search for a parking garage, and select the available spot they want. When they enter the lot, they scan a QR code, and the assigned spot will appear on the parking kiosk as well as on the user's phone. After that, all drivers have to do is park in their spot, and the bill will automatically be charged to their account. Users are also able to subscribe to a garage, which allows them to receive email notifications about the garage, such as when a spot opens up. 
Proko Park is not just for drivers. It also offers services for parking managers through a web portal, giving them live control over their structure and data useful for growing profits. 
"Parking Managers have a schematics tool that gives them a map of the daily occupancy," elaborated Li. "So, they can see, 'Oh! At 3 p.m. the traffic is higher, and at 2 p.m., the traffic is lower. So they can adjust their price on the occupancy data throughout the day." 
Managers can also put unique features on individual spots. This can include turning a spot available or unavailable, making it reservable, and seeing validations in real-time. 
The Sensors Behind The Operation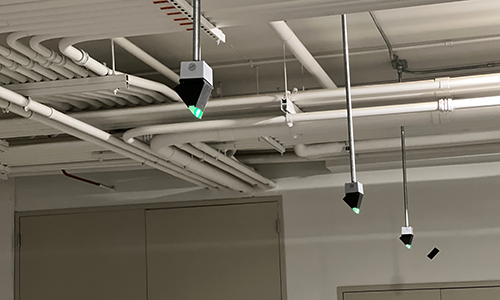 The fledgling startup is able to accomplish all of this with its machine learning-trained sensors that sit above each parking spot. These object detection sensors sense the objects entering the parking spot, and take a photo to verify if it is the right car. If it takes a picture of something that isn't a car, like a pigeon, no further action will be triggered. Once the sensor is sure it's looking at a car, it'll take a picture of its license plate. The sensor then reads the license plate and sends the string to the Cloud. There, it's then compared to the license plate of the reservation. 
"If it matches, then perfect, we start timing the user. But if it doesn't match, we let the original reserver know, 'your spot is being taken, now we're going to assign you to a different spot'. Also, it'll create a ticket for the authorities to review,"  Li added. "It could be a false read, so humans go in and manually set it as the same license plate. If it's not, we can send it to the authorities." 
The sensors don't store the information of users' license plates in a database anywhere, but Proko Park can open data up to a garage depending on the manager's preference. With this information, managers can ticket cars that haven't paid for the spot they're in.
Costs of Proko Park
Li's company boasts low costs, with manufacturing and installation rates being about $110 versus the typical rate of a well-established system being around $400. While many other sensors require a large power source and can be a huge economic burden, Proko Park's sensors only need 2.5 watts per spot. 
"Because our sensors need little power, we can diverge a powerline from the current existing light power source," Li explained. "There's no need to make a new power source for the sensor itself, which represents huge savings." 
Beta Testing at UC San Diego
Proko Park had a major challenge while figuring out the most important piece: the low-cost and low-power using sensor. 
"Before designing our sensors, we conducted some research to understand the standard features of existing sensors, and the average manufacturing and installation costs in the market," Li explained. 
After finishing creating their sensors, Li decided that they should put their idea into action, and a good place to start testing might be at UC San Diego. During the Fall Quarter of the 2021-2022 school year, Li and his co-founders went to a meeting with the UC San Diego transportation department, namely Director of Parking Jennifer Rodgers and Executive Director of Auxiliary Services Josh Kavanagh.
"We told them that we were a startup and we already had sensors that were ready to go," Li explained. "We just needed a way to test the devices in a real-world environment, so we asked for some spots to test our sensors."
To their surprise, the department allowed them to test out their sensors for the first time on campus, covering all installation operations and costs. Once the sensors were installed, Proko Park could collect data for their algorithm. After three months, they launched the app, so people could see the information for the Sixth College garage.
"Thanks to the help of the UC San Diego pilot program, we were able to adjust and continuously improve the efficiency and accuracy of our sensors," Li stated. "Without the actual environment to test our sensors, it wouldn't develop this quickly." 
At this moment, Proko Park has been beta testing 5 spots in the Sixth College garage, which one can now see on the Proko Park app in real time. The data collected is helping the company refine its technology. 
"We are in the process of developing the third version of our sensor design, which will improve vehicle detection accuracy from our current accuracy of 98% and faster connectivity," Li explained. "We have also recently finished building our own scan-to-pay solution, which allows for parking payments to be charged as you leave the garage, based on the amount of time you parked, instead of requiring you to constantly add more time to the meter."
"Air-Bnb" for Home Garages 
Even though the company has just started beta testing, Li already put their minds on future projects. One idea he envisioned is to develop Airbnb for home garages. In other words, this would allow home garages to be used as public parking temporarily, allowing passive income. 
"We are already gauging people's interest in this idea of home garage parking," Li explained. "And people are actually interested and clicking that link to see what's going on. At the moment, we're seeking ways we can pursue this particular project, but our main goal right now is to look for commercial garages." 
The Future of Parking
Ambitiously, Li sees Proko Park becoming the parking solution for the country as a whole, replacing the current system. Instead of tickets, parking lots could use QR codes and sensors to park.
"Our system is designed to be prepared for future innovations in the parking industry, such as automated payment collection and enforcement," Li explained. 
In Li's vision, autonomous driving will be a big part of the future and autonomous parking will follow with this advent, with the help of sensors like the ones Proko Park uses. Now, Proko Park is researching more into the topic, as well as adapting their systems for autonomous driving. 
"With our sensors, we can actually send signals to the vehicle's system to tell them there's a spot open. We can guide a car to that exact spot, and actually give them spot-precise parking," Li explained. "What we could provide is an entire solution for autonomous parking." 
Following the innovation of Li, Proko Park holds an ambitious spirit that people can't help but follow. No matter where Proko Park is driven next, the company will continue its indomitable spirit, representing the best of UC San Diego. 


Download the Proko Park App: Apple   Google Play