Entrepreneurial Ethos: Todd Clever Opens Up the Playing Field
Entrepreneurial Ethos: Todd Clever Opens Up the Playing Field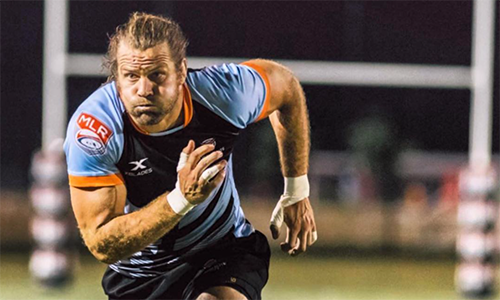 Following the footsteps of his older brother, Todd Clever started playing rugby at 14, not realizing that this sport would evolve into something greater in his life. After attending the University of Nevada, Reno as a three-time Collegiate All American, Clever made his international debut for Team USA. Clever played his international career for 15 years, acting as captain throughout it. Even when his athletic career ended, Clever's love for rugby did not. 
After stints as the Director of Rugby and as General Manager of a Rugby team, Clever felt that he needed to do something more impactful. The sport always had inspired him in how it united nations, built communities, and changed the lives of many, including his own. In the midst of the COVID-19 pandemic, he developed the Todd Clever Foundation to create new spaces for children and young adults to learn and play rugby.
The Todd Clever Foundation closely works with after school programs, local parks and recreation organizations, teams, and athletes to create a grassroots rugby community celebrating diversity and inclusion. The foundation sponsors rugby tournaments, leagues, and teams by providing coaches, equipment, and more. Additionally, the foundation works to ensure safe rugby fields at city parks, and helps low-income players earn athletic scholarships to fund their college rugby careers.
You started out as a professional rugby player, with an impressive career that has spanned several different countries. Do you have any skills applicable from rugby you now use as an entrepreneur?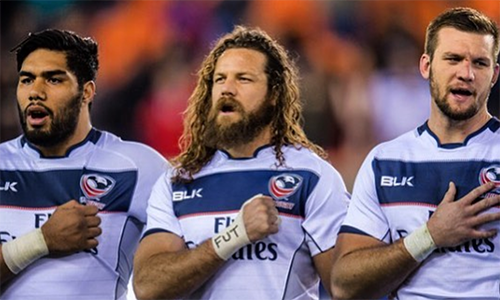 I was fortunate to have had opportunities to play rugby all around the globe. I was rarely in my comfort zone- learning new languages, eating new foods and experiencing different cultures.
From all those amazing challenges and learnings, it created the man who I am today. I rely on all the relationships I have formed with friends and former teammates to bounce ideas off of, to get a different perspective on what I am working on next. It is also great to see trends that are happening around the world.
As the founder of an organization dedicated to uplifting and uniting an athletic community, what more can universities like UC San Diego do for its athletes and fans? 
I am a big believer in investing in your product. In sports, the "Athlete" and "Teams" are the product, so I make sure that they are well looked after in all areas both physically and mentally.
As for fans, it's all about entertainment and experience – from the moment they purchase their ticket, to walking through the turnstiles, eating and drinking, and then on to watching their favorite athletes compete. I want to make sure that fans are being entertained pre-game, halftime and post game or match. Sports have the power to bring people together, but from there you have the opportunity to make the experience unforgettable and make sure they want to come back.
How was transition for you when you moved away from being an athlete to pursue the life of an entrepreneur in that space?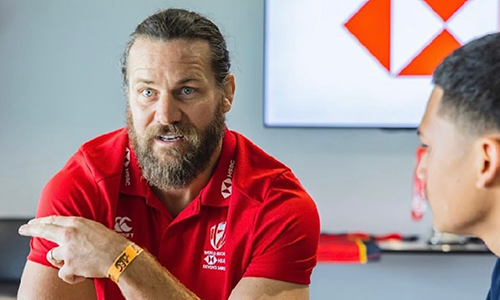 It was a big leap and a scary one at that. I knew with my connections I could have gotten a job after my playing days, but I also knew I wouldn't be happy with just a job. I always challenged myself and never took the easy road. I knew what I was good at and I knew (more or less) how to be happy and live a balanced life. As challenging and sometimes stressful being an entrepreneur is, there was so much potential and upside.
How do you cultivate a passion for rugby culture all around the world, specifically in countries where other sports lead in popularity? 
One of the main reasons why I fell in love with rugby was the core values of the sport. It truly creates better men and women. With my foundation I really focus on the core values to teach all boys and girls the values of passion, teamwork, enjoyment, respect, and sportsmanship. These values don't stay on the field, you can take them back to your home, your school and your work. I understand that rugby is an emerging sport and not as well known as other sports in the states. It makes it that much more rewarding when you're able to see it grow and change lives.
What interested you in sharing your vision and perspective as an Entrepreneur in Residence at UC San Diego?
I was very excited when this opportunity came up because I am deeply passionate about helping people follow their dreams. I think the EIR program is brilliant! From my first day on campus meeting the students and faculty, I knew I was a part of something special. It's great to see UC San Diego invest so much into the future of their students.
Describe one of the most valuable lessons you gained from a mentor in your journey, and how has it continued to guide you today? 
I try to always remember where I come from, I remind myself of who helped me and remember the opportunities I was given, and I look back on all the lessons I've gained along the way. When I mentor, I put myself in the shoes of these young entrepreneurs and guide them to not make the same mistakes I made. I want them to feel inspired to think and look at problems differently, and hopefully be there to connect them with some of my connections to bring their passions to the next level.
Explore the Todd Clever Foundation.