Craitor's Impact on 3D Printing
From the battlefield to the moon, UC San Diego startup CRAITOR and its 3D Printer are ready to work.
By Kaitlin Lee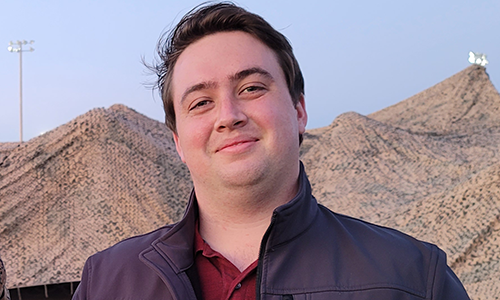 Creating something from nothing has always been at the center of innovation, something that begins with a perspective change of what's possible. For Eric Shnell, his innovation journey began right here at UC San Diego in 2018 when he founded his startup Craitor. What Craitor does is develop highly capable, resilient and intuitive 3D printers for those who work far outside the sterile controls of a lab or shop. Having first worked and developed a partnership with the US Marines, the fledgling startup is now turning its gaze toward commercial markets. Craitor Founder and UC San Diego alumnus Eric Shnell (Class of '21) looks back on his innovation journey, the company's origins and what the future holds for this exciting startup. 
What's the Innovation?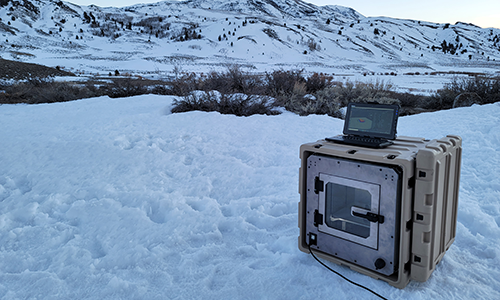 Craitor produces a highly capable 3D printer that is both fast and durable in places where a typical office/lab environment is just not possible. These printers will operate through the toughest conditions, resisting dust, temperature cycling, water, and humidity. Its robust nature means it can be jostled, bumped, and dropped, and thus, easily transported, no matter how rough the journey. Its heated chamber not only maintains a low ecological footprint, but also holds a steady heat that can regulate its printing. Its integrated models and machine learning offers automated solutions so that parts from its database can be printed consistently and reliably in austere conditions without the need of an expert operator. 
"Our system has been developed from the ground up to be portable, to survive in these [harsh] environments," Shnell elaborated. "Our hardware, our software, and our machine-learning models all work together to provide a system that can print components in the most hostile environments on Earth, and maybe someday beyond Earth." 
So when Craitor says they can manufacture quality parts anywhere from advanced high-temperature plastics, composites, and flexibles, all on a single platform, they really do mean it… even if you have to take a space shuttle to get there.
The Early Days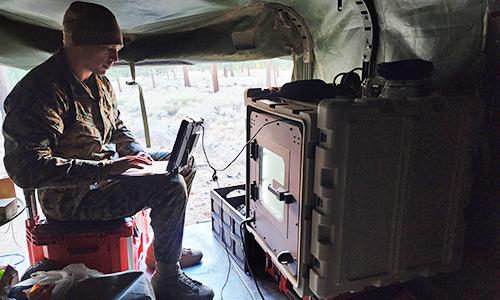 The San Diego-based company currently works with the US Marine Corps, developing military-grade components for soldier usage in the field. However, this alliance began in the early days of Craitor as a student in 2018. Shnell, an undergraduate in mechanical engineering, already had experience in 3D printing as a hobby, researcher, and educator. 
"We originally started as a team of undergraduates, working as strategic technical advisors for the Digital Manufacturing unit at the Marine Corps," Shnell said. "Our system was designed through CRADA, a Cooperative Research and Development Agreement with the US Marine Corps," Shnell explained. "We worked directly with them at Camp Pendleton, 9th Comm Battalion." 
While working with the Marines, Shnell found that the Marines spent more time working around the limitations of 3D printers than 3D printing companies were working around the limitations of the Marines. 
"I was driven to start Craitor to solve a hole in the USMC maintenance and supply-chain modernization, a hole I knew 3D printing could fill," Shnell explained. 
Shnell continued to mine this niche out further and further, eventually forming Craitor, the name coming from a play on the words "crate" and "creator."  
"Since our beginning, UC San Diego has provided both resources and a platform to grow our business along with the education to actually legitimize us, so that we can continue to build our company. The mentorship and connections that we had received through the Basement, the Institute for the Global Entrepreneur, and other programs from the Office of Innovation and Commercialization are the reason that our team is able to do what it does and why we have been successful," Shnell added. 
Widening the Scope of Applications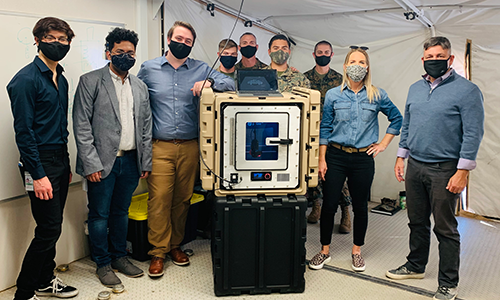 Craitor, like many other startups, not only wants to define its niche, but also look to where it can go from here. For Shnell and Craitor, this impressive technology boasts further usages outside of the military. Shnell noted that the company is currently fundraising for different production ventures in the future.
"Right now, as we speak, we're working on our initial pilot run of our production-level systems," he elaborated. "That is both within the [Department of Defense] with the Marines, the Army, the Navy, and beyond, but we're also looking to commercial markets."
Energy Industry
Craitor, as Shnell explained, could have a future providing 3D printed materials for industries, such as gas, as well as wind energy companies, farms, and more. The playing field for Craitor could be very wide, servicing organizations and teams, who may greatly benefit from a die-hard, on-site printer. 
"What we do is we put the manufacturing onsite. We reduce or limit the amount of uptime loss from waiting for components or parts, and reduce the overall maintenance cost as well," Shnell further elaborated on the big picture of Craitor. "You can print out a replacement or temporary part while the actual replacement is coming in. Or, providing maintenance support long-term."
Disaster Relief
Another important industry Shnell hopes Craitor will become a game changer in is the disaster relief industry. Should a crisis come, Craitor's machinery could offer quick services that allow for faster responses. 
"Our ability to print medical aid allows us to offer a more agile medical response. Especially in different disaster zones where it's a bit more immediate, or in times of crises, for example, the current refugee crisis going on due to the conflict in Ukraine and various other environments. What we look to provide is the ability for medical and disaster relief responses to be more agile and more resilient moving into the future." 
Space Exploration
Beyond Craitor's current endeavors, the Company is looking to the stars and seeing where else they can take their operations. 
"Space is definitely one of the interests of our team, both as our country and as the rest of the world looks to move beyond our orbit," Shnell explained. "The next frontier is going to require us the capability to manufacture critical components at the point of need because that supply chain is going to be the longest of human history that we've ever seen." 
Clearly, no matter how far Craitor goes beyond its operations on the fourth floor of the Design & Innovation Building, Schell and his team will continue to represent the true innovative spirit of UC San Diego.