Innovator Spotlight: Talke Biomedical Device Lab
June 1, 2021
Please explain your technology and its impact.
Atrial fibrillation (AFib) affects tens of millions of people in the United States. Radiofrequency ablation procedures are commonly performed by cardiac electrophysiologists to treat patients with AFib. During the procedure, it is possible for the esophagus to be thermally damaged, resulting in lesions on the esophagus. In a rare worst case scenario, atrioesophageal fistulas can occur.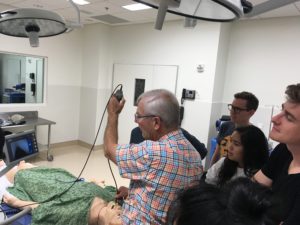 The Esophageal Deflection Device has been designed and prototyped in the Talke Biomedical Device Lab to protect the esophagus during the ablation procedure. The device consists of a precurved elastic outer tube and an inner straightening rod. The device is assembled and inserted into the esophagus through the mouth. The inner rod is then retracted, allowing the outer tube to re-assume its precurved shape, moving the esophagus safely away from the ablation heat source. (Device Mechanics Described Here): https://www.sciencedirect.com/science/article/pii/S2238785420318470)
 The innovative project is led by Professor Frank Talke (MAE-JSOE), Dr. Thomas Savides (Gastroenterology - UC San Diego Health), and Dr. Gregory Feld (Cardiac Electrophysiology - UC San Diego Health).
For which indications do you see this technology working or in which settings?
The Esophageal Deflection Device is a type of esophageal retractor that is primarily for use during cardiac ablation procedures by cardiac electrophysiologists. This would be recommended for use during every cardiac ablation procedure so that the clinician can preemptively move the esophagus away from the ablation region. The device is inexpensive, simple to use, and disposable.
What is the next step to get this device into the clinic?
The next steps are to pursue an investigational device exemption (IDE) with the FDA and perform clinical trials here at UC San Diego. Our team has also designed and tested a variant of the device to monitor the lumenal esophageal temperature during the procedure with an array of thermistors placed on the outer tube. With the field constantly adapting to new technology, we are well positioned to pursue variants of the device to monitor other physiological activity during the increasingly common procedures. We are open to collaborations or licensing to move the device forward.
---
For licensing or commercialization questions, please contact Devora Rossi, Ph.D. (drossi@ucsd.edu), Senior Innovation & Commercialization Manager.  
Rossi's background is in Immunology and she has several years of experience in Business Development in various biotech companies before coming to UC San Diego.