Entrepreneurial Ethos: Breaking Barriers at San Diego Code School with Founder Michael Roberts
February 8, 2011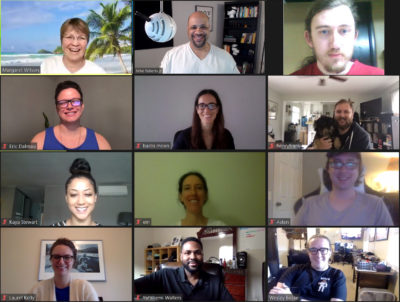 Believing change comes from building enterprises that work in the world, San Diego Code School is bringing back the fine art of apprenticeship, making innovative technology accessible, equitable and successful.
Not everyone has the opportunity to get a four year degree or invest the time necessary to learn software development on their own. San Diego Code School gets people the training they need, shaping new-collar jobs where participants can improve their futures and the communities they are a part of.
Offering year-long Software Development Apprenticeships, students receive the technical training, oversight and most importantly, opportunity to create lasting impact. Apprentices get paid to learn software development, gaining real world experience working on projects through our Partner Companies and contract work.
"Our aim is to become a major player in the tech world, being a venture whose heart is to do a lot of social good and good work," said CEO Michael Roberts. "In rapidly shifting economy in need of developers, developing the students' confidence to tackle projects and opportunities is the priority of SDCS."
Read more as Robert shares his entrepreneurial journey, bringing the San Diego Code School into the community as a sandbox learning environment rich in talent. 
You are passionate about helping historically underrepresented people and communities break into tech. What motivates you to continue this work personally and professionally?
I took the long and winding road to get to where I am. I wasn't a great student but I had a passion for playing around with computers, eventually transitioning into a technical career. Yet many times, I was the only person of color in the room of coders. Women, black, LatinX, there was no outreach or representation in these communities in the room we were nerding out in. 
That started the curiosity. I wanted to be able to give back to the community, working with early career students to grow the student experience, hire instructors, and re-write the curriculum into an apprenticeship program. The state doesn't make it easy but we built the school in less than a year. It was a huge way to validate we were on the right track. The unique innovation economy in San Diego allowed us to do this, one that embraces experimentation.
What are some of the greatest challenges in realizing equity in the tech industry? How do you hope to overcome this through the San Diego Code School?
The biggest problem is everybody wants senior engineers, with the upper echelon of companies willing to pay a premium. However, a lot of other people are left on the sidelines, whether because they cannot afford a CS program or bootcamp or have no way of gaining that experience. 
We want to connect dollars, resources and jobs back into the community. We ask, what can we do to help people today to make sure people have this opportunity? When we opened up the first cohort, we got over 100 people applying with little to no advertising. The demand is incredible. We are making an effort to build a robust pipeline of pre-apprenticeship training, including those reentering from incarceration.
You've been awarded Most Influential People & are a CEO of the Year finalist. What defines your success and what motivates you to keep breaking barriers?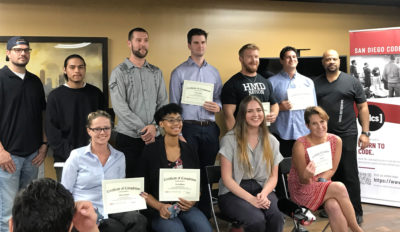 It's the willingness to take on the hard problems. I like working on the hard, gnarly stuff, this is not just a way to make money for me. It's about what we can do today, to improve our community's capacity to improve lives. I understand and can speak to folks on the technical team to hire diverse candidates, but students need a pathway. These paths will become that much more critical in the Future of Work, jobs will require these unique skill sets. 
Everyday is a win when during my all hands meeting, I see 14 people with jobs that normally would not have been afforded this opportunity. Instead of suffering the ravages of the Covid-19 economy, they are learning to code. It's the biggest accolade to me, getting people places and keeping the lights on. The work is hard but super rewarding.
More locally, what do you believe San Diego can do to effectively address the iniquities in the tech ecosystem?
It is disheartening that so much of our tech community and entrepreneurship and innovation takes place away from the Promise Zone. We don't have a public transportation system that is effective for all strides. We have to build bridges, so I ask, how do we take thriving BioTech ecosystems and connect them to or place them inside the Promise Zone?
Entrepreneurs and investors need to go and have a presence in the community - engage in the schools, help accelerators and build the ecosystem. Right now, it is very disconnected and siloed. San Diego has a social and economic mobility divide that needs to be broken. Remote work has opened up the possibilities of more connections via satellite offices. We need to tie the downtown community back together again with the rest of the County. I am optimistic that we can make bold changes especially with the new Mayor and local leadership at the county level.
Describe and share one of the most valuable lessons gained from a mentor in your journey?
I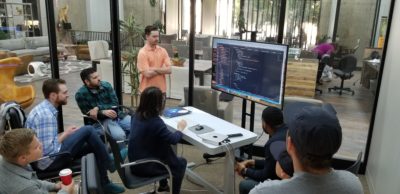 've been in a very fortunate position as an entrepreneur. Entrepreneurs respect other entrepreneurs. They are willing to take a call and provide advice and counsel. They understand what it's like to be in this small circle, take a risk, and move mountains. Mentorship to me is picking up insights from each small interaction, conversation or advice. 
I try to provide that same opportunity to others. It's important to be open. I believe in the rising tide mentality - there is plenty of room in this field, everyone has their own room to succeed. The short micro mentorship opportunities are invaluable, which excites me about the mentor network we are creating to support our apprentices.
What interested you in sharing your passion as an Entrepreneur in Residence at UC San Diego?
I was introduced to the opportunity through Leanne Chukoskie, Ph.D, Department of Neurosciences Director, Research on Autism and Development Lab. I didn't have much familiarity with a research university, or the biotech space for that matter but I was eager to plug my connections into the UC San Diego startup community. From the outside, you have no concept of the size or scale of commercialization happening at UC San Diego. 
I was also super excited to get a little color and diverse background into the mix while connecting people in my circle. The program is a total win. It's great to be around people who are doing inspiring, community driven work.
To learn more, visit

 

San Diego Code School

 

for partnership, applications or queries.
Want to join their Mentorship Network? Check it out here!
Make sure to stream Season 1 of the SnackWalls (http://podcast.snackwalls.com) Podcast - "Attract and retain diverse talent in technology the right way."